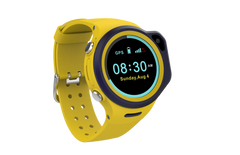 Do you know, now a watch can tell you much more than just the time? We know it sounds crazy. But the way technology is advancing and with the discovery of Smartwatch, now you don't need to check your smartphone again and again. This horologe can be your part-time trainer, your phone, and sometimes even your bank all-in-one at the same time, isn't it cool?  Then what are you waiting for?
Wait! Before you start thinking about the best smartwatches to shop in 2021? Let us tell you that we are here to discuss the same. So if you wish for the whole world to be right at your fingertips. Don't make a delay in looking out for those devices that not only suit your lifestyle but also abide by your god damn smartphone. Get ready; a best yet perfect Smartwatch is waiting for you.
1. Samsung Galaxy Watch Active 2
Petite, round, and a beautiful look this is what signifies this one amongst the plethora of Samsung smartwatches out there and not only this. Its touch-sensitive bezel makes it easier to use besides the sleep tracking features which even the apple smartwatches lack. It is compatible with all the Samsung smartphone devices.
2. Samsung Galaxy Watch 3
What include it amongst the best Samsung Smartwatches variants are its more advancing features. Better battery life and more advanced sleep-tracking features also give it an upper hand. The more fitness-focused approach considerably makes it more expensive. Its Swiss-made look however makes it the first choice for most of the users. 
3. Samsung Gear S3 Classic
This Samsung Smartwatch variant is not counted amongst the best Samsung smartwatches just like that. This trendy and high-tech watch uses Bluetooth to deliver notifications straight on your wrist without making you feel bothered to check your phone. With its built-in speaker and microphone, you can even make and answer calls hands-free. Wait! Does it feel a burden for you to carry your wallet with you? Don't worry now you don't feel the need to reach for your wallet either. This Samsung Smartwatch along with the Samsung pay feature allows you to pay almost anywhere. Even that's not it. The military-grade performance makes it worthy and overall a remarkable Smartwatch.
can't reach out to your phone you can receive them straight from your wrist.
Now as you know about the best smartwatches to shop in 2021. Make sure you chose it wisely and if you feel worried about the costs. Just remember one thing expensive ones cry once and cheaper ones keep crying.