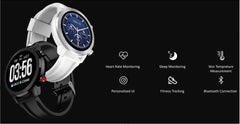 Technology has given us a lot. From life-changing developments to mesmerizing smartphones. But there were smartwatches, that made a name for themselves and were able to carve a niche worldwide. Still many say that these smartwatches are just a waste of money. Now tell us does this sound fair in the case of smartwatches, especially when it came up offering such cutting-edge breakthroughs. Yes, it sounds surprising that the device which was associated with technology freaks and health enthusiasts is capable to do so much more with added features day by day. Well, it is just the beginning. Let us discuss 5 interesting features of a smartwatch which can ease your daily life. Maybe this will let you know about its worth and will drive you to buy one. 
So are you ready to explore the same? Then let's get in the run because we are just getting started. 
1. They do tell us more than just the time.
Yes, you heard it right. There was a time when the purpose of a watch was only to perform the basic function which is simply telling the time. Many even used to buy a watch because it looked great on their wrist. But as time passed there started a downfall in the use of watches. Because who would buy a watch which just tells the time. Well, they have got a point and this is what took the features of a watch to a different level. We know you are excited to know about those and no doubt when you buy one for yours we are sure that it will make you feel mesmerized. Till then let's talk about the rest of the features. 
2. Your perfect travel buddy
This feature has of course been introduced in some touchscreen smartwatches. But the question is who must have expected this? Well, the good news is from now if you are wandering somewhere, you don't have to fear getting lost. Your smartwatch will prove as a savior for you and bring you back on track by telling you which is the right direction to follow to your destination.  
3. Finding your phone, key or even other devices is now much easier
Phone lost? There is no doubt that how frustrating this experience is. But with the rise of smartwatches, it is now going to become a thing of the past soon. Yes, many touch screen watches do have a "find phone" feature. If you have connected your mobile device with it you can ring on it through your smartwatch at any instant. On top of that, you just have to click a few buttons on your touchscreen watch to locate your smartphone within seconds.
4. A good fitness tracker
If you have ever been thinking of a fitness tracker, then let us tell you that you can now have this feature in a smartwatch. So how this feature works? As a fitness tracker, it can count your steps, walking distance, calories, heart rate, and much more. Some may not be offering this, but the smartwatches with the great technology up-gradation come with this feature and are much cheaper.
5. Instant communication
Communication can be made in two modes either call or messaging and if you have a smartwatch on your wrist then you no longer need to take your phone out of your pocket. You can easily receive calls and reply to messages from your smartwatch while on the move. This feature also brought voice support which is introduced in various touchscreen watches and helps you communicate with someone thousands of miles away. Just think how a smartwatch has overpowered your smartphone in managing such kinds of tasks. But certainly, it can save you a lot of time. 
Now as you knew about the interesting features of a smartwatch, we hope you must be convinced that it is now a better option to stay connected. It's another thing that if you are still crazy about mobility. Let us tell you that smartwatches are soon going to be the perfect fit for everyone and will make a stronghold over the whole world.